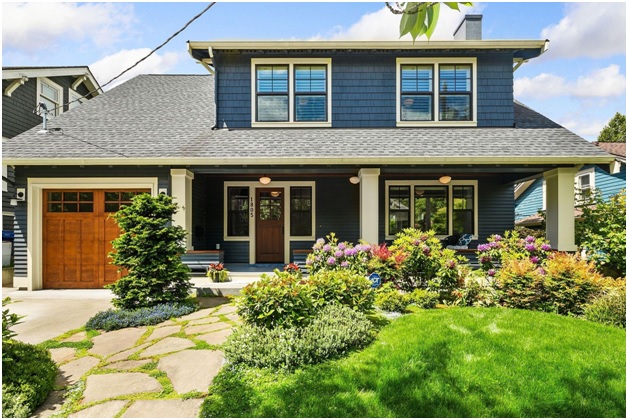 Are you looking to add some charm and curb appeal to your property? Your property's visual appeal can enhance its overall appearance and value. This piece will discuss several easy ways to improve your home's curb appeal. Whether preparing to sell or just looking to spruce up the place, these ideas will help breathe new life into your space.
Landscaping
Invest in well-maintained landscaping to create a beautiful, inviting front yard. Trim trees and shrubs, mow the lawn regularly, and remove any weeds or dead plants. Add colourful flowers, potted plants, and mulch to create visual interest and a vibrant atmosphere.
Entryway Upgrades
Your home's entryway should be a design feature. For example, consider upgrading the front door with paint or replacing it with a new, stylish door. Also, add decorative elements such as a door wreath, modern house numbers, and a welcome mat to create a welcoming entrance.
Decking
Few things are as crucial as decking when raising a home's curb appeal. Decking is one of the first things visitors will notice about your property and may significantly impact their initial impression. There are two main options for decking: timber and composite. Timber decking vs composite gives us a wise decision about a good option for your property. Timber decking has long been a popular choice among homeowners due to its natural beauty and durability. However, it needs frequent maintenance, including staining or sealing, to prevent decomposition and weathering. Composite decking, on the other hand, is constructed from recycled plastic and wood scraps to look like natural wood but requires much less upkeep.
Front Exterior
You can enhance your property's curb appeal through composite cladding ideas to create an accent wall or panelling on the front exterior of your home or building. It can serve as a waterproof barrier against precipitation and provide visual interest to the design. In addition, using composite cladding in different colours or textures can create a unique look that separates your property.
Lighting
Proper outdoor lighting not only adds safety and security but also enhances the aesthetics of your property. Install attractive and well-placed lighting fixtures along walkways, the front porch, and the garden to highlight architectural features and create an inviting evening ambience.
Driveway And Pathways
Keep your driveway and pathways in good condition.
Repair any cracks or potholes, remove weeds or moss, and consider adding a fresh sealant layer or resurfacing if needed.
Enhance the visual appeal by lining the edges with landscaping or decorative pavers.
Fencing and Gates
If you have a fence or gate, ensure it is in good condition. Repair any damaged parts, clean or repaint if necessary, and consider adding decorative elements to enhance its visual appeal. A well-maintained, attractive fence or gate can significantly improve curb appeal.
By implementing these curb appeal enhancement tips, you can create a visually appealing and inviting exterior that leaves a positive impression on visitors and potential buyers.