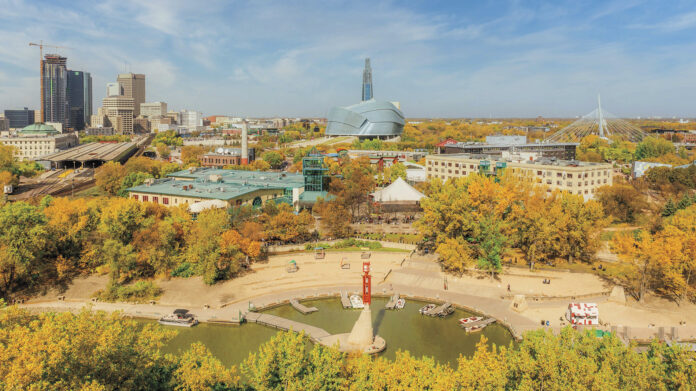 Winnipeg, the capital city of Manitoba, Canada, is a vibrant and culturally rich city with many essential things to do. From exploring its historic sites, art galleries, museums, and nature reserves, to enjoying its culinary delights, festivals, and nightlife, Winnipeg has something for everyone. Here are some of the essential things to do in Winnipeg at least once.
Read More : delta airlines Flight ticket
Visit The Forks: The Forks is a historic meeting place and marketplace located at the junction of the Red and Assiniboine Rivers. It's a popular destination for locals and tourists alike, offering year-round entertainment, shopping, dining, and outdoor activities, including skating, biking, and kayaking.
Explore Assiniboine Park: Assiniboine Park is a beautiful urban park with plenty of green spaces, gardens, and trails. It's also home to the Assiniboine Park Zoo, featuring over 200 species of animals from around the world.
Visit the Canadian Museum for Human Rights: The Canadian Museum for Human Rights is the first museum in the world dedicated to exploring the subject of human rights. The museum features 11 galleries and offers visitors a unique and interactive experience, encouraging visitors to explore the importance of human rights and their impact on our world.
Experience the Manitoba Museum: The Manitoba Museum is an award-winning museum that offers a glimpse into the province's history, from its geological formations to its diverse cultures. The museum features immersive exhibits, including a planetarium, a science gallery, and a replica of a 17th-century trading post.
Take a walk in the Exchange District: The Exchange District is a historic neighborhood in Winnipeg with over 150 heritage buildings and a lively arts and culture scene. It's home to many art galleries, theaters, and music venues, and hosts numerous festivals and events throughout the year.
Try some local cuisine: Winnipeg has a diverse and vibrant food scene, offering a range of culinary delights from around the world. Some must-try local favorites include perogies, bison burgers, and sugar pie.
Read More : delta airlines Manage My Booking
Visit the Royal Canadian Mint: The Royal Canadian Mint in Winnipeg produces all of Canada's coins and is a fascinating place to visit. The mint offers guided tours where visitors can learn about the coin-making process and view a collection of rare coins.
Enjoy a Jets game: Winnipeg is home to the NHL's Winnipeg Jets, and catching a game at Bell MTS Place is a must-do for any sports fan.
Explore FortWhyte Alive: FortWhyte Alive is a nature reserve and environmental education center located just outside of Winnipeg. It offers visitors the opportunity to explore the park's natural beauty, including hiking trails, bird-watching, and canoeing.
Visit the St. Boniface Cathedral: The St. Boniface Cathedral is a beautiful and historic church located in the St. Boniface neighborhood of Winnipeg. The cathedral is one of the city's most iconic landmarks and features stunning architecture and a rich history.
Check out the Winnipeg Art Gallery: The Winnipeg Art Gallery is the oldest public art gallery in Western Canada and features over 27,000 works of art from around the world.
Go on a brewery tour: Winnipeg is home to several craft breweries, and taking a tour of one (or more) is a great way to sample some of the city's best beers while learning about the brewing process.
Read More : delta airlines group travel
Explore the Whiteshell Provincial Park: The Whiteshell Provincial Park is a beautiful park located about two hours east of Winnipeg. The park features over 200 lakes, numerous hiking trails, and stunning natural beauty.