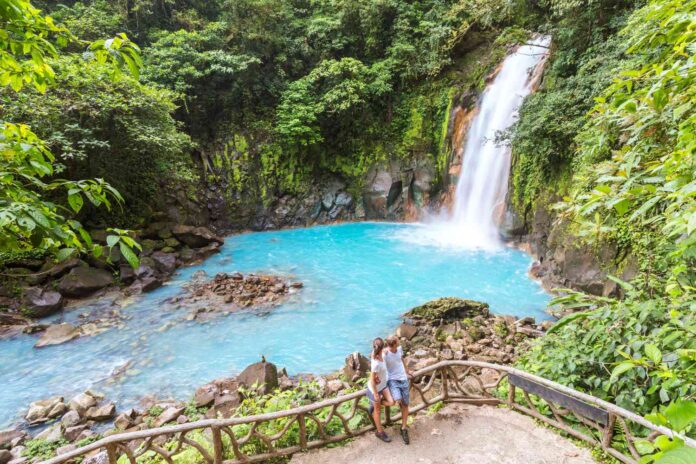 San Jose, the vibrant capital city of Costa Rica, offers a delightful blend of rich history, cultural treasures, and natural beauty. Nestled in the heart of the Central Valley, San José serves as the country's cultural, economic, and political center. In this article, we will take you on a journey through the top places to visit in San Joe de Costa Rica, revealing the city's hidden gems and inviting you to experience its unique charm.
Read Now : Spirit Airlines Flight Ticket
National Theatre of Costa Rica
Immerse yourself in the cultural splendor of San José by visiting the National Theatre of Costa Rica, an architectural masterpiece and a symbol of national pride. Marvel at the opulent interiors adorned with lavish furnishings, intricate artwork, and a breathtaking ceiling mural. Attend a performance to witness the theater's acoustics and artistic excellence. Take a guided tour to learn about its history and significance, and explore the adjacent Plaza de la Cultura, a bustling public square.
Pre-Columbian Gold Museum
Discover the fascinating history of Costa Rica's indigenous cultures at the Pre-Columbian Gold Museum, located beneath the Plaza de la Cultura. This museum houses an exceptional collection of pre-Columbian gold artifacts, including intricately crafted jewelry, ceremonial objects, and sacred offerings. Gain insights into the rich cultural heritage of the country and learn about the significance of gold in ancient societies. The museum provides a captivating journey through Costa Rica's pre-Hispanic past.
La Sabana Metropolitan Park
Escape the city's bustle and immerse yourself in nature at La Sabana Metropolitan Park, an urban oasis spread across 72 hectares. This expansive green space offers walking paths, sports fields, and picnic areas where locals and visitors alike gather to relax and enjoy outdoor activities. Explore the park's serene lake, visit the Costa Rican Art Museum located within its grounds, or simply unwind amidst the lush surroundings.
National Museum of Costa Rica
Delve into Costa Rica's history and cultural heritage at the National Museum, housed in the historic Bellavista Fortress. Trace the country's journey from its pre-Columbian era to the present day through engaging exhibits that include archaeological artifacts, colonial art, and displays on Costa Rica's biodiversity and social development. Explore the fortress's ramparts for panoramic views of the city and stroll through its charming gardens.
Mercado Central
Experience the vibrant atmosphere of San José's Mercado Central, a bustling market filled with local vendors, fresh produce, handicrafts, and traditional food. Wander through the narrow aisles, sample tropical fruits, browse for souvenirs, and savor typical Costa Rican dishes at the market's food stalls. This lively market offers an authentic glimpse into the local culture and is a great place to engage with the friendly residents.
Read Now : Spirit Airlines Manage Booking
Barrio Amón
Stroll through the picturesque streets of Barrio Amón, a neighborhood known for its beautifully preserved Victorian-style mansions. Admire the architectural elegance of these historic houses, many of which have been transformed into charming boutique hotels, cafes, and galleries. Explore the nearby Parque Morazán, a tranquil park with a neoclassical temple, and immerse yourself in the neighborhood's artistic ambiance.
Jade Museum
Visit the Jade Museum, located in the historic neighborhood of Barrio Aranjuez, to explore one of the world's most extensive collections of jade artifacts. Learn about the cultural significance of jade in Costa Rican society and discover the intricate craftsmanship of ancient jade objects. The museum showcases a diverse range of jade pieces, from intricate carvings to jewelry, offering a unique perspective on the country's indigenous heritage.
Read Now : Spirit Airlines group travel
Conclusion
San José de Costa Rica, with its rich cultural heritage, architectural gems, and natural beauty, offers a captivating experience for travelers. From the grandeur of the National Theatre to the cultural treasures housed in museums, and the vibrant energy of local markets, the city provides a glimpse into the soul of Costa Rica. Embark on a journey through San José's top attractions and discover the essence of this charming capital city.